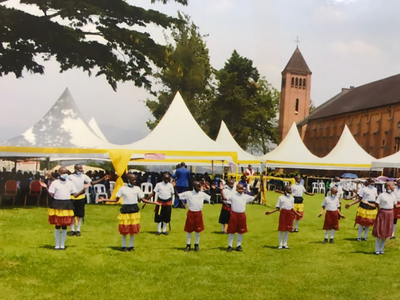 Summer is upon us once again. This summer is seeing record numbers of travelers as we all get back into being on the go. This year for the first time in two years our missionary priests are also back on the go. We are delighted to have the Missionary Cooperative Plan (MCP) in person once again. One recent visitor was Fr. Fred Byaruhanga, a priest from the Diocese of Kabale, Uganda.
In 1966 Kabale was erected as a Diocese. Located in the western part Uganda, Kabale is a bustling city of about 50,000 people. The city is somewhat crowded with lots of motorbike taxis referred to as "boda boda" darting around the streets. But the Diocese covers about 2,000 square miles, roughly the size of Delaware, and the further you are from the city center the more disadvantaged you become. It is a challenge that faces many mission Dioceses.
Fr. Byaruhanga, who is currently assigned to the West Los Angeles VA Medical Center, explained to me how the Diocese created a system where the parishioners and the pastors can be together spiritually as often as possible.
As you can imagine some of the parishes are very remote, but Kabale's Bishop, Bishop Callistus Rubaramira, came up with a schedule which enables pastors to go out to smaller mission centers within the parish. The centers, run by trained catechists, are robust communities engaged in prayer and communion services during the week and on rotating weekends. Some Sundays parishioners attend Mass at the center, while on other weekends they journey to their parish church, which can be as much as 20 miles away. Most will walk.
This distance to the parish church is why the centers are so vital. They keep the Spirit in the community. The church isn't some distant building you only see once a month. In the true spirit of our faith, the church is the community celebrating together.
Fr. Byaruhanga refers to the mission church as a Divine Project often stating, "We are all part of this Divine Project." The resources we share, through our prayers and donations make us one. When we answer the call to the Divine Project we fulfill our baptism into the one universal church. It is part of our Catholic identity to celebrate our faith together. The Mass is not a singular event but a continuous celebration of evangelization.
We are all called to go out as missionaries. We may not have to walk 20 miles or more, but we are all on the same path together.