By Rev. Jason Weber
The above slide show captures beautifully one of my days not too long ago. On that day, I offered two Masses in different chapels in the surrounding villages and in the evening, I joined a retreat that was being offered in Bánica for some of the young women in the parish.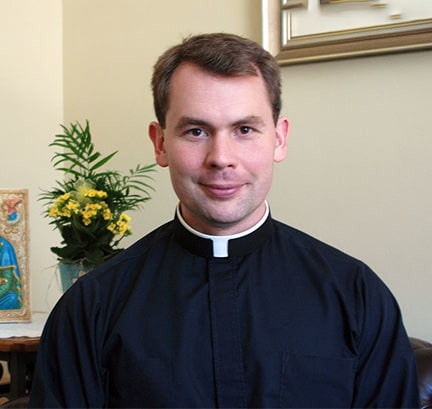 There is a little story embedded in this video. After Mass in a village called Los Memisos an elderly gentleman asked me to come by and visit a woman who was in bad condition. In this area where racism against folks from Haiti is very strong, this elderly Dominican said to me that everyone is a child of God and deserves care. He told me that sometimes he brings this woman a bit of food and water which surprised me because the family she was with should have been doing that. I thought I would be going to anoint her and perhaps speak with the family a bit. When I arrived, I found this poor old woman, Lolo, huddled in the fetal position on the dirt floor in the house. I thought- what if she were my grandmother? I placed my hand on her, cried a little, and anointed her. I have met people who are dying in different levels of poverty and need, but none so neglected as this poor old woman (There is one picture of her on the dirt floor in the slide show).
When I left the house, I called Tom to ask for a mattress, and I called one of the sisters, Sr. Milka who was helping with the retreat for the girls to see if a few of the young women could come with me to bathe Lolo and sure enough two young ladies and one of the sisters came with a mattress, some clothing and sheets, and a double portion of love. In the slide show, you see two of the young women beginning to prepare the mattress and Sr. Milka tucking Lolo into bed.
We talked to the family to orient them and tell them the great importance of taking care of Lolo and bathing her daily. When I returned to the house two more times Lolo was in the bed that we had brought, and her situation was better, but we still needed to take the time to bathe her. Lolo contracted a polio like disease recently and seemed to be dying. Her family transferred her back to Haiti this past week, so the next time I'm in the area I will ask her daughter about her.
In this little episode, it was the charity of one elderly gentleman who had a heart for his neighbor that brought us into contact with Lolo and allowed us to orient the family to taking her care more seriously. It was also wonderful to have the support of Sr. Milka and two of the girls from our youth group, Yenny and Luz, who also returned to visit Lolo on another occasion. My day didn't actually finish with the sunset- I still had a talk with the girls on retreat and ate with them before saying my prayers and placing the day in God's hand and seeking to rest in the Lord.